Winter CELL Championship Preview
CELL update: and then there were four!
180 games and eight Sundays later, teams in Winter CELL Session have gone from twelve to four. While a majority of the teams were comprised of members of the Clams, interestingly – a perhaps not surprisingly – three of the four teams in Championship weekend are comprised exclusively or almost exclusively of players from the same high school (some Clam program members too, others not). One notable exception, however, is the Bison, the current odds-on favorites to win the coveted CELL sweatshirts.
Despite the fact that the Bison are a team comprised of players from multiple high schools, more than half are players from the same high school: Lawrence Academy. If they win the whole thing, there will be symmetry to it, because in the last session that occurred throughout the fall, they lost the Championship by just one goal in an extraordinary, back-and-forth affair. Perhaps they're due.
But the Pioneers, Wolves and Colonials will all have their say, and each has proven over the course of the session that they're capable of being very worthy adversaries. Below, you can find a quick blurb on each of the four Championship flight participants.
Bison (#1 Seed)
Record: 18-2-1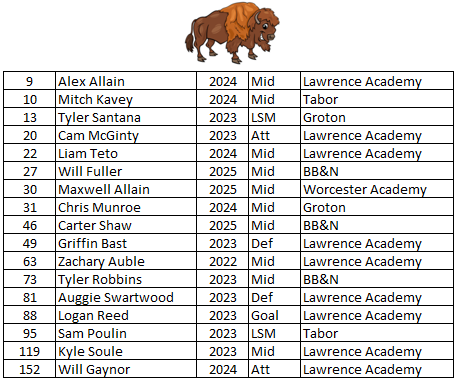 The Bison, unsurprisingly, swept their way through Round 1 of the CELL Playoffs this past Sunday. Scoring a combined 50 goals, over a dozen more than any other team, speaks to this team's frightening offensive prowess. Zach Auble, their unquestioned leader throughout the session, notched 15 points. But it was Will Gaynor who stole the show this past weekend, with 19 total points. Cam McGinty, Mitch Kavey and Liam Teto combined for 27 points, Griff Bast and Auggie Swartwood provided a tough edge defensively, and Logan Reed did what he always does: answers the bell when it's needed most. This team is the #1 seed for a reason. And let's call a spade a spade: they're gonna be VERY tough to beat.
Pioneers (#2 Seed)
Record: 18-4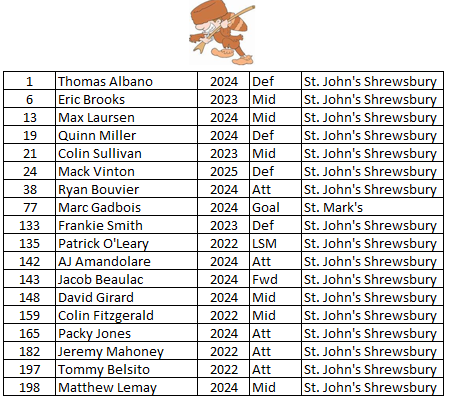 The Pioneers, interestingly, struggled in their matchup against the #1 Bison this past Sunday, falling 19-14. But they handled their other two lower-seeded opponents with ease, and in turn maintaining their #2 seed heading into Sunday's Championship flight. Knowing the Pioneers as I feel I have over the last few weeks, I'm certain they'll be chomping at the bit for a rematch with the Bison this coming Sunday, with far more on the line. The Pioneers may be the league's deepest and most well-rounded team. One any given week, any number of players can hurt you. Offensively, look out for Tommy Belsito, AJ Amandolare, Jeremy Mahoney, Colin Sullivan and Eric Brooks; defensively, look out for Bobby Rodolakis, Frankie Smith and goaltender Marc Gadbois. I have no doubt the Pioneers train will be at full capacity this weekend, and I wouldn't want to have to get in their way.
Wolves (#3 Seed)
Record: 16-6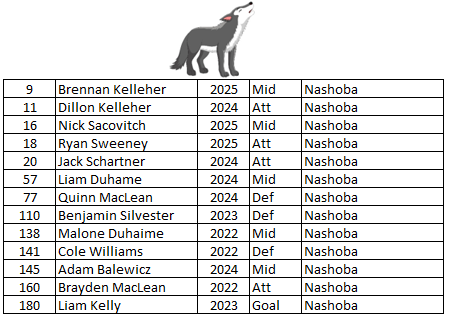 The Wolves got themselves quite a scare this past weekend. It was all smooth sailing until the Colonial came-from-behind and edged them by one in a pivotal contest. This necessitated a playoff game vs. the always-formidable Tomahawks; the winner would advance, and the loser would see their CELL season conclude. With his signature, rugged, very effective play, Brayden Maclean powered his way to 15 combined playoff points, 7 of which came in the must-win vs. the Tomahawks. Jack Schartner and Liam Duhame combined for 23 points of their own, and the Wolves continued to show they very much belong in the hunt for the sweatshirts. And, of course, goaltender Liam Kelley must not be left out, as his imposing presence between the pipes cannot be ignored.
Colonials (#4 Seed)
Record: 13-8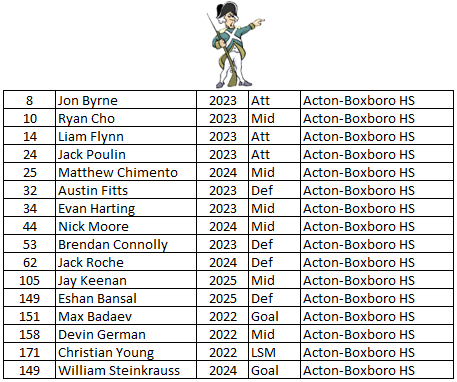 The Colonials defied the odds and defeated the Tomahawks and Wolves in back-to-back games on Sunday, the second of which occurred in surprising, come-from-behind fashion (see above). Both games showed the Colonials' ability as a team, but the second, a 10-9 win vs. the Wolves, showed their resolve as well. Steady scorer Liam Flynn tallied 7 points, and the tandem of Jon Byrne and Ryan Cho added 15 points. The lightning-quick Max Badaev played his best lacrosse when it mattered and proved in the CELL playoffs that he can answer the bell when needed. Perhaps this was a harbinger of things to come for the MIAA playoffs in several months (hope I didn't jinx it). Defenseman Austin Fitts was sturdy in the efforts as well.
Best of luck to all four of these formidable teams in the conclusion of Winter CELL this Sunday (2/13)!