Winter CELL Championship Recap
The Champions have been sweatshirted!
The Winter session of CELL has finally come to a close, and champions have been "crowned" with their highly coveted championship sweatshirts. Despite valiant efforts across the league, nobody could stop the stampeding Bison. Below you'll find a recap of championship weekend, and deserved praise for all of the teams that made it that far.
Before we get into the praising of the Bisons, and the Herculean resistance put forth by the Pioneers, we feel we must praise the other two CELL semi-finalists.
Colonials (runners-up)
Final Record: 13-10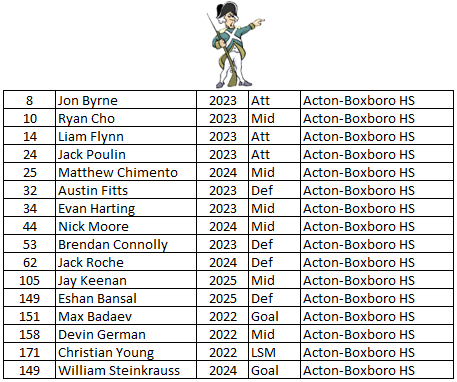 First off, we'll give due props to the Colonials. Coming into Championship Sunday as a 4th seed, with a 13-8 record, the Colonials needed all their firepower present and accounted for to make a realistic push. Unfortunately, they were missing a couple of their bigger guns, and those players' absences may have cost them the opportunity they might've otherwise had. Disappointed as those who did attend might have felt, I'm sure there was some solace in the play of Liam Flynn (7 goals, 1 assist), and the always dynamic Max Badaev between the pipes.
Wolves (runners-up)
Final Record: 16-8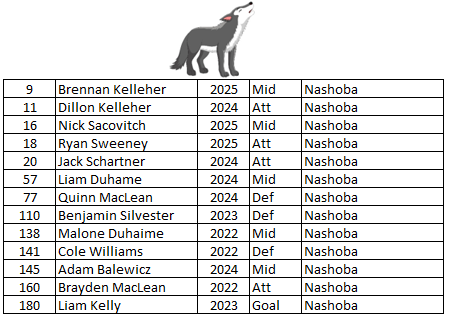 The most notable part of the Wolves' day this past Sunday was the tremendous scare they put in the eventual Champion Bison squad. In a surprisingly low-scoring 7-8 game, the Bison had to do everything they could to prevail. Goaltender Liam Kelley (and his counterpart Logan Reed, more on him in the Bison writeup) stopped more shots than he allowed in this contest, a rare feat in CELL in general, and even rarer against the league's strongest opponents (stat line: 9 saves, 8 goals allowed for Liam in the game, and a sparkling 29 saves and 22 goals against on the day). And the trio of Jack Schartner (4 goals, 1 assist), Liam Duhame (5 goals) and senior leader Brayden Maclean (3 goals, 1 assist) put forth a commendable effort throughout Sunday's playoff as well.
Now, onto the Champs, as well as their Championship Game opponents, who pushed them to their limit.
Pioneers (2nd place)
Final Record: 20-5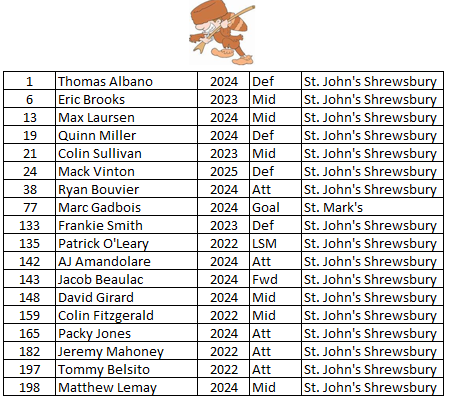 The Pioneers were a joy to watch all session long. With the largest roster in the league, the Pioneers found a way to work everyone through and play refreshingly cohesive brand of lacrosse. Despite the depth and volume of talent, the team certainly was not without its standouts. Jeremy Mahoney was the most notable of these throughout this past Sunday day, exploding for a team-high 14 points (13 goals, 1 assist). As usual, Tommy Belsito (5 goals, 2 assists), and both Colin Sullivan and Eric Brooks, who scored 6 goals apiece, provided ample support. This team, and the soon-to-be-discussed Bison, played one of the most memorable Championship games in league history, with Eric Brooks scoring a buzzer-beater to send the game to overtime. The 4-minute OT period was no less suspenseful, and Colin Sullivan's big goal gave the team a shot. But alas, Mitch Kavey sealed the deal for the opposing Bison squad with his game-ending goal, doing his part to stave off the Pioneers' surge. Of course no Pioneers writeup is complete without mention of  Marc Gadbois. Stopping just under half the shots that came his way, Gadbois and his steady presence between the pipes gave his team the very real chance of winning it all.
Bison (CHAMPIONS)
Record: 21-2-1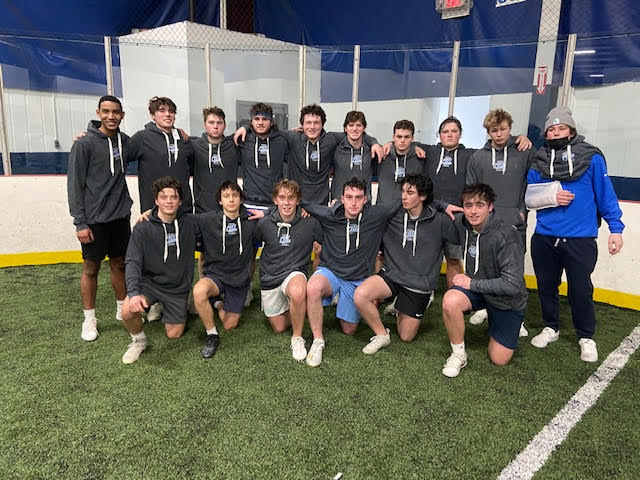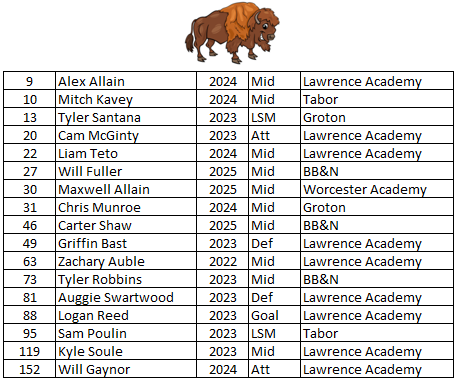 And last but not least, we're onto the Champs!
The Bison went wire-to-wire this past session. And there was indeed poetic justice in the way it ended. A majority of the players on this team hail from Lawrence Academy. And last session, in the case of an even more Lawrence-heavy team, a Championship title was clearly within grasp. But alas, the squad came up one goal short. You can be sure they wanted one this time around, and they sure did play with the energy and passion of a team with something to prove.
As was the case all-session long, senior team leader Zach Auble and younger spitfire Will Gaynor both provide numerous offensive sparks that would ultimately prove insurmountable. Totaling a combined 18 points this past Sunday (interestingly, each player had exactly the same stat line: 8 goals, 3 assists), Auble and Gaynor were, again, exceptional. Fellow offensive counterpart Cam McGinty had himself a nice day too, with 4 combined points. But it was a non-Lawrence player who ultimately sealed the deal. Included in Tabor Seawolf Mitch Kavey's 7 goals was the game-winner in the Championship, a beautiful, high and hard hammer that could barely have been seen given its quick release. The defense deserves its praise too. Logan Reed continued his exceptional session, stopping 29 shots and allowing just 26 goals (in a league where anything above a 50% save pct. is outstanding), and Auggie Swartwood and Griff Bast did their best PB&J impression, jamming up the opposition all day long.
Thanks to all for yet another successful session of CELL! Congrats to the Bison!